Grants & Loans
NOTE: All federal and state programs have, for the time being, closed their application process. If you already filed an application with your bank, you should contact them directly to make sure all of your paperwork is in order and about the status of your application. We will update this section as soon as new opportunities become available.
With PPP Out of Money, What Should Businesses Do?
Main Street Lending Program: The Federal Reserve has created the Main Street Lending Program to provide a total of $600 billion in financing for small and medium-sized businesses. While the program's start date has yet to be announced, here's what you need to know to check eligibility and get ready to apply. (Prepared by the US Chamber of Commerce)
---
NJEDA Entrepreneur Guarantee Program (Applications now open)
NJEDA Partnering with CDFIs to Support Low-Cost Financing for Small Businesses and Nonprofits Impacted by COVID-19.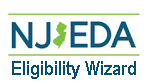 NJEDA offers this screening tool that lists emergency assistance programs that you may decide to consider based upon information you provide about your organization. Click on the above logo to open the wizard.
---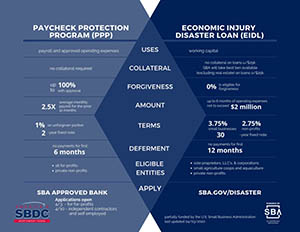 Infographic Prepared by the Small Business Administration and Small Business Development Centers that answers many questions about the Paycheck Protection Program and Economic Injury Disaster Loan Programs. Click above image to see the full infographic.
---
NJBIA Reports
---
Opportunity to Prepare for Small Business Emergency Assistance Loan Application
Applications for the NJ Small Business Emergency Assistance Grant Program opened on April 3, 2020 and will on close on Friday, April 10.While the $5 million program is currently oversubscribed, NJBIA encourages businesses and nonprofits to still apply to get in the queue for possible future funding of the program. The application is currently available here.
The NJEDA has established a new toll-free number specifically for inquiries related to NJEDA's Small Business Emergency Assistance programs. Please call 844-965-1125 to speak with a representative.
---
New Jersey: Small Business Emergency Assistance Grant Program
The State of NJ and the Federal Government announced that applications for funding will open on Friday, April 3, 2020.
In our webinar on Tuesday, March 31 with the NJ Economic Development Authority, more information was shared about the Small Business Emergency Assistance Grant Program. The program size is $5 million. Applications will open at 9 a.m. this Friday and close on Friday, April 10 at 9 a.m. The application will be available online at https://cv.business.nj.gov/grant.
It is very important that you review the NJEDA's slide presentation, which contains a screenshot of each application page (beginning on slide 4) and have all of your required information ready when applying. It is expected that this program may close prior to the April 10 deadline based on anticipated enrollment.
Attention nonprofits – We fielded many calls today from nonprofits who are not eligible for the NJEDA grant program because of the limited NAICS codes covered by the program. If in the eligibility wizard tells you are not eligible for the grant program, please know that you are still eligible for the loan program.
---
Federal: Paycheck Protection Program Application
Full list of Participating NJ Banks approved by the U.S. Small Business Administration.
Search for Participating Banks by Zip Code.
Application Form: This form is to be completed by the Applicant and submitted to your SBA Participating Lender (see above link of Participating Banks). Submission of the requested information is required to make a determination regarding eligibility for financial assistance. Failure to submit the information would affect that determination. NOTE: This is an online writeable PDF and not an online application. If you complete the fields in the PDF, you should save it to your desktop, print it and bring it to your financial institute.
SBA – Please note that there are still many guidelines to be worked out and our NJ banks are still awaiting SBA guidance in order to process these loans. If your bank is not ready to receive or process your loan as the program opens, please be patient.
*Download the Paycheck Protection – Loan Amount Calculator. (MS Excel Download)
---
Federal: COVID-19 Economic Injury Disaster Loan Application
The U.S. Small Business Administration is collecting the requested information in order to make a loan under SBA's Economic Injury Disaster Loan Program to the qualified entities listed in this application that are impacted by the Coronavirus (COVID-19). The information will be used in determining whether the applicant is eligible for an economic injury loan. If you do not submit all the information requested, your loan cannot be fully processed. Apply Here.
---
Federal: Families First Coronavirus Response Act Update, April 1
The U.S. Department of Labor issued temporary regulationsfor the Families First Coronavirus Response Act today (click here). Employees must give notice to their employers of the need to take leave and provide documentation to support paid sick leave and emergency family and medical leave. The IRS also provided documentation needed relating to tax credits for required paid leave provided by small and midsize businesses. (click here).
We are monitoring the application process and will add updates when available.
---
NJBIA Outlines:
---
NJ Economic Development Authority:
---
Federal: